(Written by kencraw)
Well, the interview went well yesterday… or so I thought:
I know that we're often our own worst critics but MAN my facial expressions were flat. Yeah, the answers were fine. But I just can't get over how, as Jason put it in an IM discussion with me "you did sort of look like your cat had just died". I mean, I SPECIFICALLY said to myself "make sure you're smiling" because I know that I can look a bit stone faced in pictures. In fact, I remember a couple moments when I tried to smile more. There's absolutely no indication of that attempt on film.
I mean, how is even POSSIBLE that I can look both like this: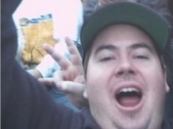 and this: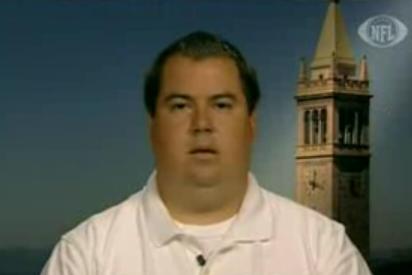 Oh well…
In any case, here's a little background on how it all works. They sent me to the University studio when the show was being taped in the morning. They put me in a little room with no more than a chair with a backdrop and video equipment. Then they put a mic on me and an earbud in my ear. The earbud had the audio from the show as well as occasional cut-ins from the producers with instructions or heads up.
That's all I had. No video monitor to see what was going on. No teleprompter with questions that were going to be asked (they did give me a general idea in the studio that they'd be asking about Riley as starting QB, Javhid Best, the 3-4 and team chemistry, but that's about the extent of it). Nothing. So if you're one who noticed that my eyes kept shifting off camera too, I have NO IDEA what I was looking at. I think it was mostly that I felt pretty disengaged and distant as opposed to feeling like I was "talking to the camera".
While I guess the equipment setup is the norm, I had no idea what to expect and was a bit thrown off by it. But what REALLY threw me off, was the pacing of the show. I had never watched the show before, so I had no idea. I was expecting something a bit more drawn out with more detailed discussion as opposed to the quick hitting, fast paced answering that was expected.
So when the first guy from USC, who's not in the clip, started blathering away at lightning speed, I had a huge "oh crap" moment. I knew I would get about a 15 second warning when my turn was up, so I quickly in my head got ready to just fly through my answers and did my best to prepare them. I knew that when the moment came I just had to spew out whatever was first on my mind. "Don't think, just talk", I told myself. As an example, I had no idea I'd say that Riley's attitude/energy might make a difference after the first loss. It's just what came to mind while I was blathering away. The whole thing was just a stream of consciousness. There wasn't even time to think. In fact, I couldn't have told you afterwards that I said that. I couldn't even say how long I was on the air.
I think the next time I'm on I'll do a lot better. I'll spend a lot of time prepping content to say. What I noticed from the other two guys (the 3rd guy was Florida) was that they didn't mind straying from the question and would just keep talking as long as the host would let them, so that'll allow me to prepare content and use it liberally after quickly answering the question. Basically, the first time you pause, no matter what you just said, they're asking their next question.
Also, I'll spend some time in front of a camcorder "having a little talk" with Mr. Stone Face.
All in all though, I was happy with my answers. My only complaint was with the stone faced delivery. In fact, I'm genuinely surprised my answers were as good as they were considering how it all came about and how much of a blur it was. I think what saved me is that I'm so comfortable with the material, that there was never a moment I had to pause to come up with anything. I was able to "execute" on my "don't think, just talk" and it didn't make me sound stupid.
Hopefully I'll get another chance to show I can do it better…