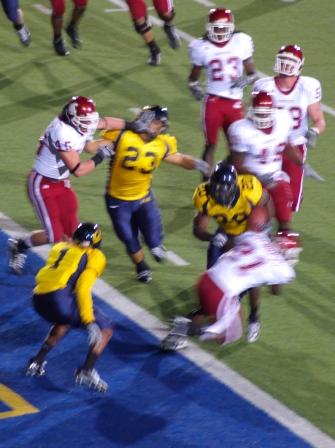 The Bears FINALLY got back in the win column last night… but it was one of the most uninspiring win of the Tedford era. How many times do the Bears have to run it up the gut inside the 5 yard line to know that between the young/weak offensive line and defenses keying on it that it's just NOT going to happen.
There will be plenty of commentary to come, although most of it is going to have to wait until tonight. Unfortunately the podcast won't be posted until tomorrow because I left the critical cable to upload the audio in the office. However I do plan to do my full re-watch game analysis tonight. In the mean time, here are a few thoughts:
The team that played last night WILL NOT beat USC. The good news is that they're some better redzone play calling and Longshore getting back into rythym from being the team that can pull it off.
The defense had one of its best performances of the season outside of both those last two big WSU plays and of course their performance against Oregon.
Longshore looked fairly healthy for the majority of the game. Perhaps 90%. His one big interception was an under-thrown ball that had the feel of the ASU injured Longshore and there were a few other moments where he was moving around a little gimpy, but for the most part this was the old Longshore, mobility wise.
Despite getting a bit more healthy, you can tell that Longshore and the offense are still suffering from his injury. They felt about as in sync as a 2nd week of the season team, not a 9th week. This injury has completely disrupted the team's timing and Longshore's over-the-middle confidence (it seemed he was using the out patterns as a crutch a lot). Hopefully now that he's closer to full strength a good week of practice and reflection will get them back in sync for the big matchup next week.
More to come…